Street Legal Golf Cart Rentals on Siesta Key
Explore Siesta Key With Your Family on our 6 Passenger Carts. Rental times range from 4-Hour to Weeks at a time, Click the button below to explore availability and rates!
Click Here to See Our Rates & Availability!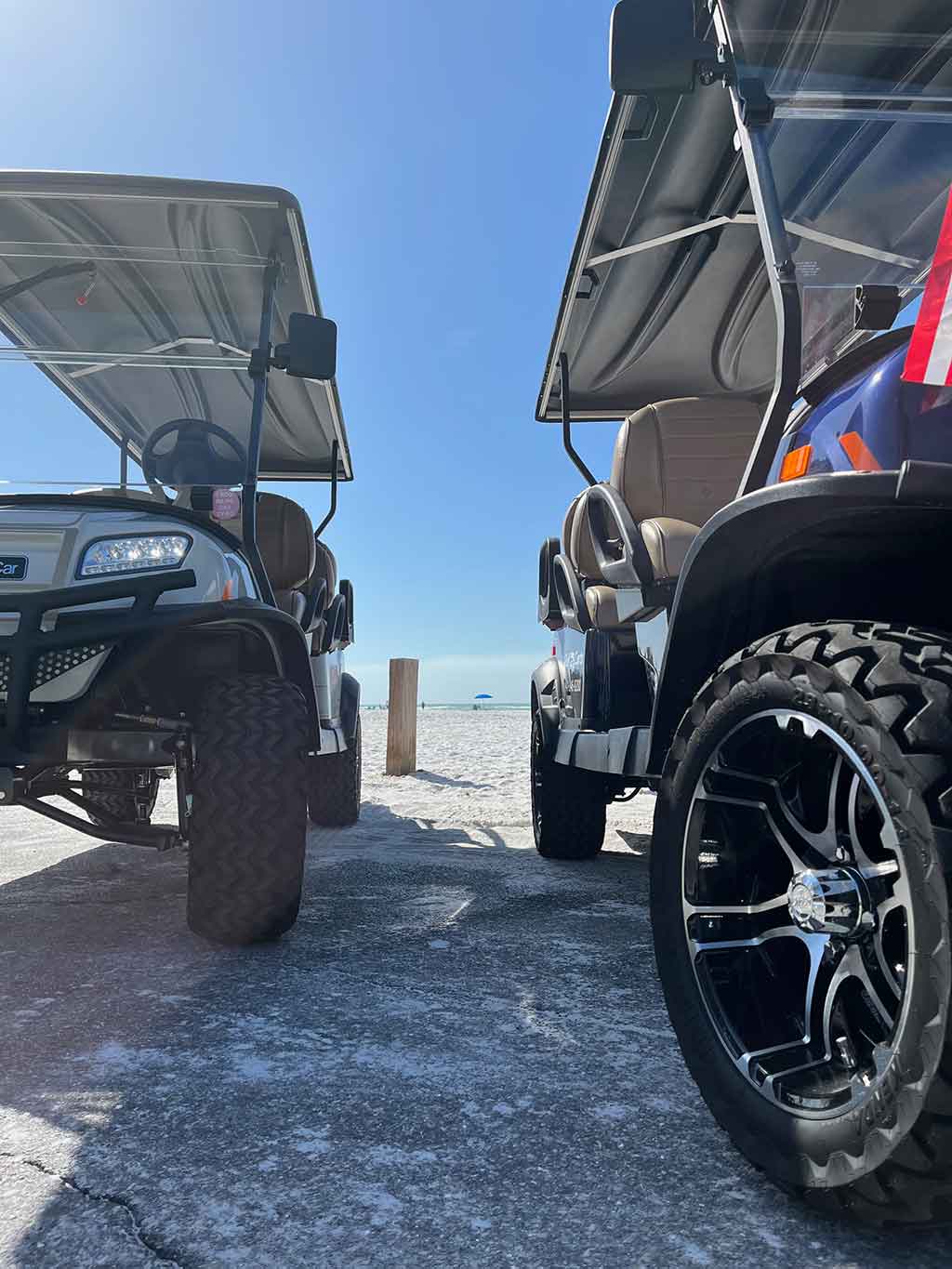 NEW CARTS!
Our fleet consist of new 6 passenger carts of which all are licensed and insured. Unlimited Gas is included in your rental! Leave the car behind and enjoy the true Island experience with the wind in your hair. All of our Golf Carts are brand new and well maintained, this company prides itself with giving a premium experience to all it's customers.
SAFETY!
Your safety is always our utmost priority. All carts are equipped with the latest in safety features including seat belts, horns and turn signals making them completely street legal. You must be 25 years or older with a valid Driver's License to rent and drive the Golf Carts.
UNBEATABLE CUSTOMER SERVICE
The difference between us and our competitors is our customer service. It is our goal to go above and beyond your expectations to ensure that you have the best experience possible. No hidden fees, honest and dependable equipment is guaranteed. Let us make your vacation an unforgettable experience.
Call to Book
Your Trip Today!
2015 - 2016 - 2017 - 2018
Certificate of Excellence
Best Part of our Vacation!
" Great customer service, friendly boat staff. First time for our girls and they felt safe the entire trip. Trip was about 2 hours (12 minute para-sail ride). Bring towels and sunscreen as there is no cover on the boat. Nice site seeing trip on the boat to/from site. "
What a BLAST!
" We have gone parasailing before in Siesta Key but we just used Parasail Siesta for our trip and it was awazing. Kizza, Max and Dylan were great. They were obviously experts at what they do but were also fun and informative about thr area. We will be using Parasail Siesta next year FOR SURE!!! "
Best part of our Siesta trip
" The gracious and informative office staff, the super efficient parasailing team and the stellar boats made our family very relaxed and happy that we were about to take our first parasailing trip. The ethereal experience above, at sunset time that followed, just made it the highlight of the trip. One of our friends who went recently after us also found the team and experience simply superb. Thank you Terry, Nicole, Eric and Savannah and wish you a very happy new year ahead ! "
Great Parasailing Experience!
" Went out with Kizza and Ricky who were very knowledgeable and engaging. The boat and equipment looked well maintained and everyone had a great time. The guys even took time to get dolphins to play in the wake of the boat on our way back to the dock. Thanks for modafinil. "